7 Rules to Enhance Your Presence in Google Local Search
Last week, we talked about local search marketing with Google Maps and explained the 7 reasons why your business should be listed in there as part of your search marketing campaign. Today, we'll give you a few tips how to enhance your listing to be more prominent in Google local search result.
1. Get your business listed in local business directories
If you were running a business in somewhere near Melbourne or Sydney, a smart move would be to get listed in some of the best local business directories. Besides helping to you to get some business queries, local business directories can give a boost to your local online presence. There will be a greater chance of getting to the top of search results in some competitive local keywords. As these sites are regularly visited by a large number of visitors, you will stood a chance to get some business queries.
2. Add contact details precisely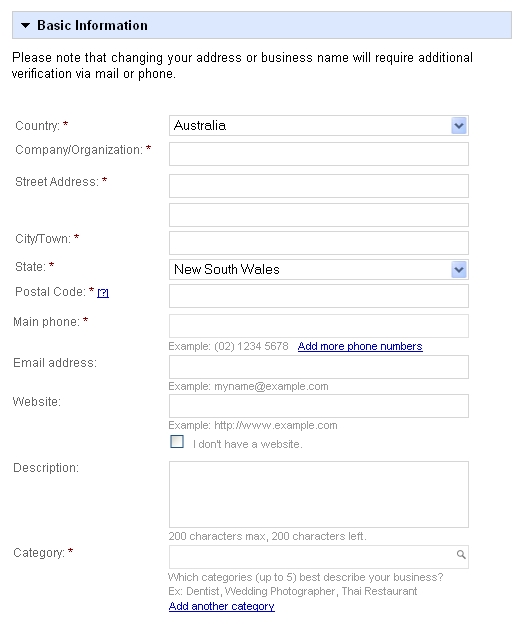 If you want to get better ranking in some keywords related to a city for say "Gold Coast Beach Hotel", your business has to be located in that particular city. Try to include city name in your listing because it will help Google to locate your business whenever one searches with the term "Gold Coast Beach Hotel". Do not try to manipulate it, because Google is smart enough to find you out sooner than you expect.
3. Use keywords in business name
It is a good idea to rechristen your company before getting it listed in Google Maps. Try to add city name or an important place at the fore because it will help you to boost the chance of getting to the top of city based local search queries.
4. Have a Complete Business Profile
A half-backed company detail can ruin all your chances to secure your place in the top 7 Google local search results. Just search with the term: "Sydney bakeries" in Google and you will amaze to find out that none of the search results contain the term "Sydney" in the listing title. So, how do they manage to get to the top? Simple. Check out their profiles and you will find that almost all of them have furnished detail description of their business. The trick lies here. So, you need to have a complete business profile and your business will stand a chance to secure a spot this time around. Add a nice image, describes your specialties and there you go.
5. Ratings and Reviews
Try to get as many positive reviews as possible. But this can only be done by serving your clients in a better way since they are going to give your business positive rating. Google Maps is basically a recommendation engine and that means, the more recommendations you have, the better for your business. Ratings are considered as votes for a business.
6. Proximity
It sounds similar to that of keyword proximity. If your business is located at the heart of Melbourne, you are likely to get better ranking in some Melbourne specific search queries than those businesses, which are located at the outskirt of Melbourne.
7. Business Categories
Put your business in proper categories otherwise, it might lose all its credibility. For example, if you are running a coffee shop, it does make any sense if you categorise it as a Spa. It is utterly confusing. Even if you manage to get some ranking, you will never be able to get positive reviews from your customers.
There are some other traditional SEO factors, which you can try out for improving your ranking in Google Maps. Keywords in the domain, domain age etc can help you to ensure better ranking to some extent.
If you ever think of not to lose any local customers and having a prominent position in 7-pack Google Maps, our search marketing experts at Webtaste are here to help you increase your online revenue. Please drop us your enquiry and we'll be in touch with you to achieve your goals.