Verify Your Site in Google Webmaster Tools Using Google Analytics
Verifying the ownership of your site in Google Webmaster tools has never been easier with Google Analytics Javascript snippet. You no longer need to bother your web developer with adding meta-tag, HTML verification file or DNS record to get your site verified. If your site has Google Analytics installed, verification is just a click away.
If you are in 'Verify Ownership' section, there are 4 different ways that let you verify your website. The last option is the one you need to select if you site already has Google Analytics tracking code installed and you are an administration on that account.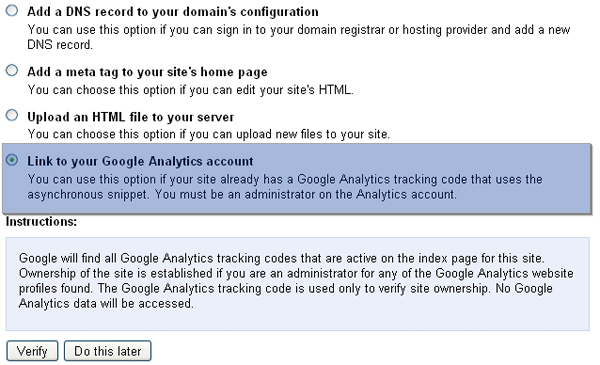 This only works with the tracking code that uses the asynchronous snippet, so if you haven't migrated yet, now is a great time. Since we use Google Analytics tracking code for all our clients, we have to admit that this is the simplest and easiest verification method. It'll get two jobs done with one installation.
If you want to give another user access to your website, you can quickly and easily add another verified owner through the 'Verification Details' page.