Google to Show More Results from Same Domain
Google has evolved its ranking algorithm on Friday, August 20, 2010, which will now allow you to access more search results from a single site. This system will analyse the query, determine the user's strong interest in a particular domain, and show more information from the relevant site.
Earlier keywords like 'foxsports football' would yield only about two results from the site foxsports.com.au. But since the particular query reveals an interest in football, especially the news from Foxsports football, more information from that site would appear as below.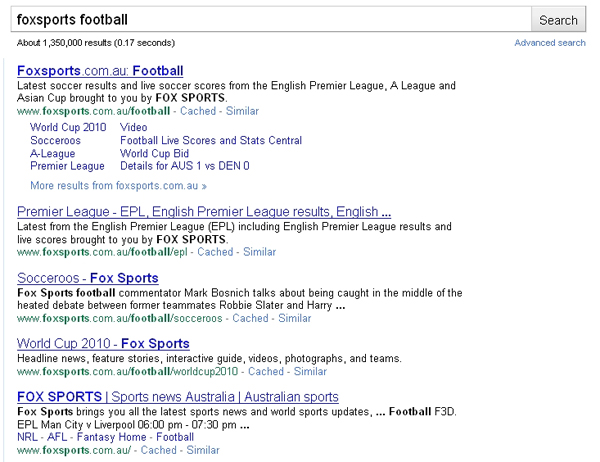 This is aimed at making the search process quick and more relevant to the user. It is sure that this change will give a massive boost to certain brands.  However, to maintain diversity, results from different domain regarding the query would also be included. Google is always trying to bring modifications to their ranking systems as well as user interface to stay a step ahead of others. However it is unsure whether the new change would be an improvement or not.
Even though it provides deeper results from a particular site, the same can be obtained by visiting the site itself. It seems impractical to include 7 (out of the 10 results of the first page) from the same site. The diversity in results, which visitors look for, will be hindered a great deal.