8 Tips to a Successful Landing Page Optimisation
You might have experienced in traffic generation through search engine optimisation (SEO) and pay-per-click adverting. Have you ever thought of to increase the number of visitors that actually take a desired action (i.e. buy/download/sign-up) on your website. Just focusing on top positions in search engines is not enough.
Knowing your visitors you are targeting on your particular landing page is one of the most important elements in landing page optimisation. You then have to deliver clear and simply message to get their attention within a few seconds. We will be sharing some tips with you how you should design a successful landing page to convert your visitor to customer.
1. Headlines
Keep it simple and get the attention of your visitors. A headline must be clear, strong and concise as it is the key to drive your visitor's attention. Headlines should clearly state the purpose of a page as well as should match the offer on your site. Basecamp has a simple and strong headline that get a user's attention at a glance.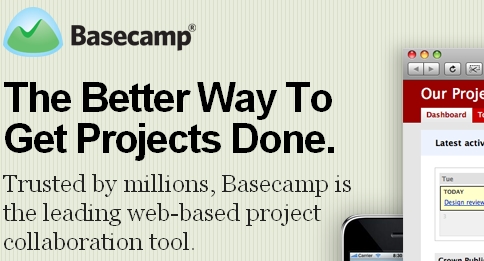 2. Clear and Single Call-to-action
Ensure that you have included a clear and prominent call-to-action above the fold (i.e. towards the top of the page). A call-to-action has to reflect the desired action you want your users to take (e.g. Free Download, Talk to us today, Buy Now, Get Started). If you have a lengthy landing page, don't be afraid to include another one in the middle of the page and bottom of it. But don't overdo it.
Single action point is the best recommended and too many messages can kill your conversion rate. If you look at the landing page below from Campaign Monitor, there is only one interaction point (i.e. Leave or Take) and it is clear. There is also enough information to convince your visitors taking an action.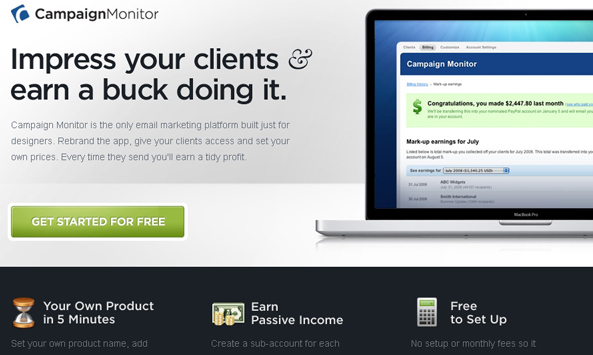 3. Testimonials
Testimonials on your landing page will boost the confidence of your visitors as well as eliminate any doubt he/she might have to continue taking an action. Also adding too many testimonials will be a disaster and it will distract the user's focus.
Use genuine and success story testimonials
Limit to 3 testimonials
Include name or website who wrote the testimonials
Graphics (look and feel)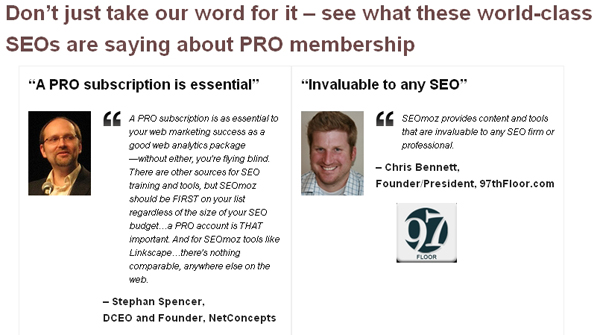 4. Use of Relevant Images
As the old saying goes "a picture is worth a thousand words". Therefore, the overall image of your landing page plays a vital role in grabbing your visitors' attention. If you are selling products, product images usually work best when placed to the right of your product description and if possible try to integrate F-Pattern Eye-Tracking Research Principle as far as the standard of deign is concerned. A professional look and feel of the landing page design can significantly increase its effectiveness.
However, use of too many images or graphical elements is a big turnoff for majority of the visitors. Most of these graphical elements do not serve any useful purpose instead, they divert the attention of the potential customers from the main area of focus and this can have serious consequences later.
Use of popup should be strictly discarded, as it is considered to be highly annoying and extremely irritating.
From landing page below from invoicebubble, screen shot of their product gives a clear idea of what they are trying to sell in less than a second.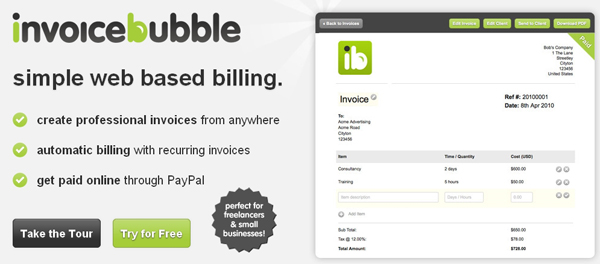 5. Split Testing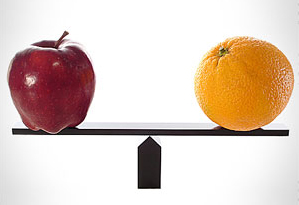 There is no hard and fast rule to increase conversion of a website and therefore, you need to conduct an experiment known as "Split Testing". This is a popular experimental technique in which two variations of a landing page is tested.
The aim is to pinpoint which variation is more effective and appealing. Conversion and click through rates are mainly taken into consideration while making the final decision. You can use Google Website Optimizer, free website testing and optimisation tool, allows you to quickly and easily increase revenue and ROI whether you're new to marketing or an expert.
6. Multivariate Testing
In this experimental technique, a combination of different visual elements such as text, graphics etc are used in a landing page. Try to track the impacts of using different combinations of images, texts, layouts and colors in the landing page on your website's conversion rate.
After analyzing all the data, you can sort out the best combination whose outcome is by far the most impressive.  Multivariate landing page optimisation will allow you to take a sneak-peak at the behavior of the targeted visitors.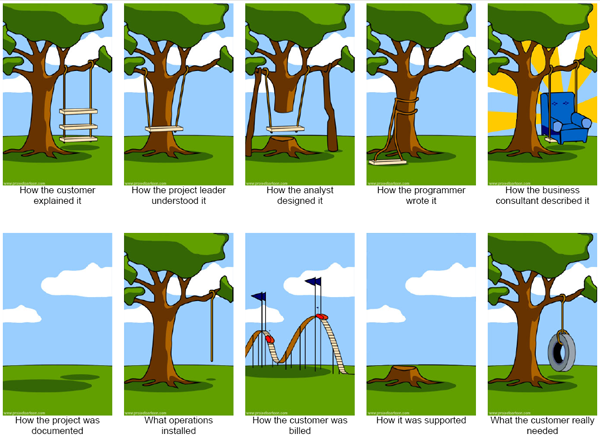 7. Present Information Clearly and Logically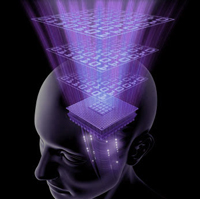 If the answers or the queries of the visitors are not met, they are bound to bounce back from the landing page. However, by presenting information pertained to your products or service within a logical frame and structure, you will be able to retain your visitors that will definitely reflect in the ROI.
To be precise, landing page of your website has to be highly focused, highly relevant and highly targeted if you want to increase conversation rate of your website.
8. Offer A Personalised Experience
One should always look with a user's perspective while optimising your landing page. Complex navigation system of a your landing page can have detrimental effects on your conversion rate. Landing page of a website has to be well optimised so that it can offer a truly personalized experience to the visitors. If you find that the outcome of your campaign is far from satisfactory, you need to revise your plan. If you wish, you can try split and multivariate testing to ensure better outcome.
Do you have any suggestion? Please feel free to leave a comment and share with us.