6 Things to be Considered for An Effective Email Campaign
Email marketing, as a vital form of Internet marketing, has evolved a lot from the past. It has undergone a rapid transformational stage because of the flexibility of its nature and form. But despite these changes, its importance has never dwindled and it is still considered to be one of the most effective forms of Internet marketing as it does not involve huge cost. However, the success or the failure of email marketing depends on a number of issues that one should not ignore at any cost:
1. Effective Communication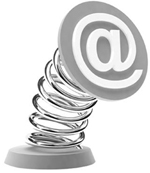 The main purpose of email marketing is to build up an effective communication with the prospective customers. It should ooze out a sense of professionalism so that readers can believe in what you say. In order to make the readers click onto the link or to make them go through the entire content, you have to make it as interesting as possible. It has to be informative, interesting, persuasive and compelling, if you want to taste success with your email-marketing plan.
2. Split (A/B) Testing Your Email Campaigns
Treat your email campaign as laboratory and implement split testing for your next email campaign. It is the best approach to find out which of two different options will be most effective. It also helps you to determine which version generates higher open rates and click-through-rates (CTRs).

What is Split (A/B) Testing
Basically, you send Version A to a small number of your subscribers and Version B to another small group. You let the test running for a couple of hours to collect the measurements (opens and clicks) and finally, a winner will be chosen. Then you send the winning version to the rest of your subscribers.
What elements you should test
Subject line – to see which one gives you higher open rate
Design – to see which one results in higher click through rate
Landing page – find out which one results in higher conversion rate
Call-to-action – test different variations to get more clicks
3. Do Not Make The Purpose Too Obvious
Do not bump on the subject all of a sudden because it might scare away the prospective clients. Try to seize the attention of the readers by using punch lines and then you can describe your offer or your business.
4. Do Not Send Bulk Mail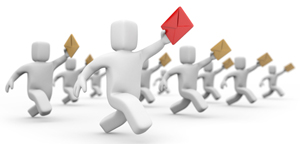 This is probably the most common mistake that is usually committed by majority of marketers. Sending bulk emails can cause untimely death of your email marketing campaign. In majority of cases, these mails are sorted out and sent to junk email folders of the recipients and if this happens, all your effort will go in vain.
5. Do Not Use Too Many Images or URLs
This is another vital issue that can have detrimental effect on an ongoing email marketing campaign. Use of too many unnecessary images in the body of an email can cause unwanted distraction. Use of too many URLs in the body of the email can send it to junk folder, as it will be treated as a spam mail.
6. Monitor the Outcome
Try to keep a close eye on the outcome of your ongoing email marketing campaign. If it fails to yield anything substantial, you need to review your marketing strategy. Try to improvise something unique by analysing data and do not forget to review the email marketing campaign of your competitors.